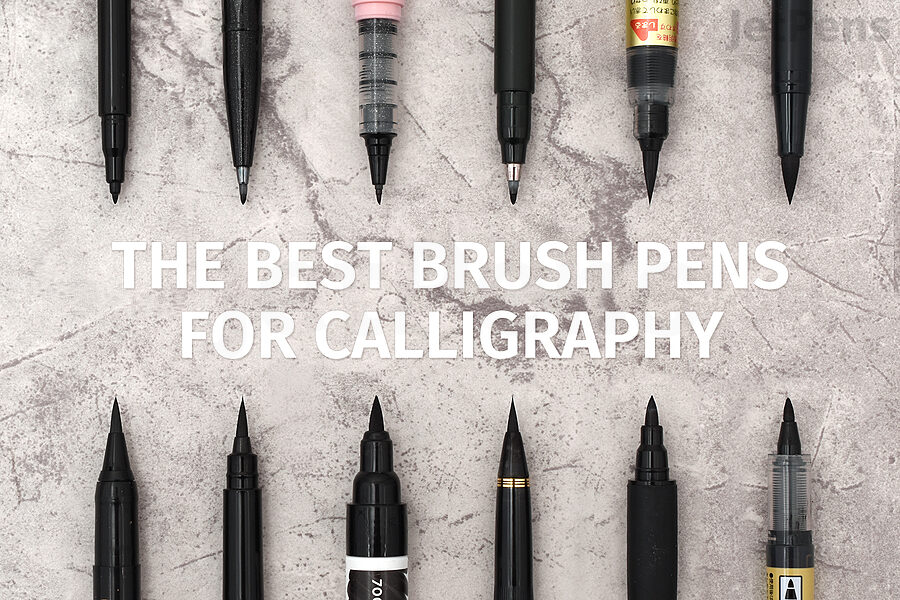 You don't have to be a serious artist or calligrapher to create beautiful script. With a huge variety of brush pens to choose from on our site, we've compiled a guide to help you find the best brush pen for calligraphy. Read on to see our top recommendations for brush pens that suit beginners, dramatic lettering, and Asian calligraphy.
Brush Pen Characteristics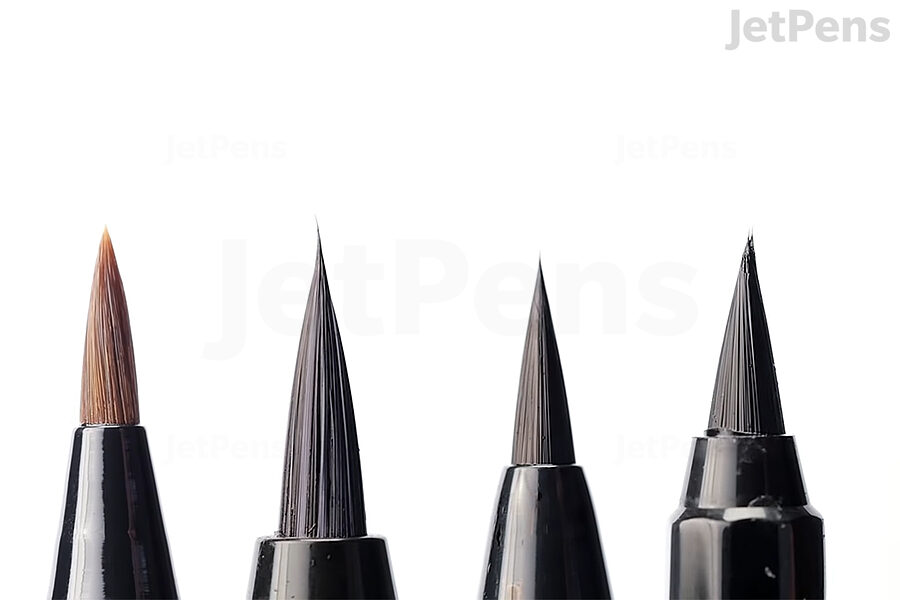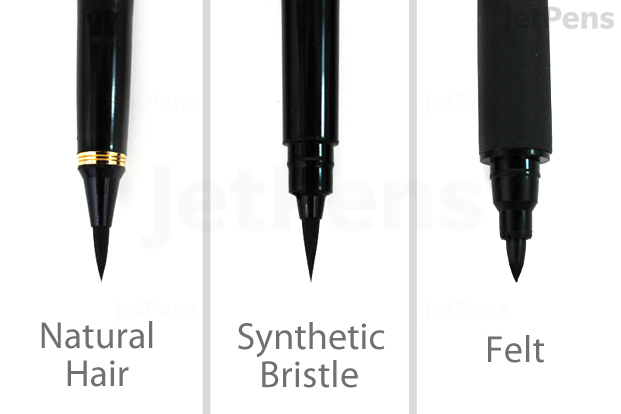 Tip Types
There are three main types of brush tips: natural hair (made from animal hair), synthetic bristle (generally constructed of nylon), and felt. Felt tips are good for beginners because their firm, marker-like tips offer good control. Natural hair and synthetic bristle brushes are softer, so they require more practice to use.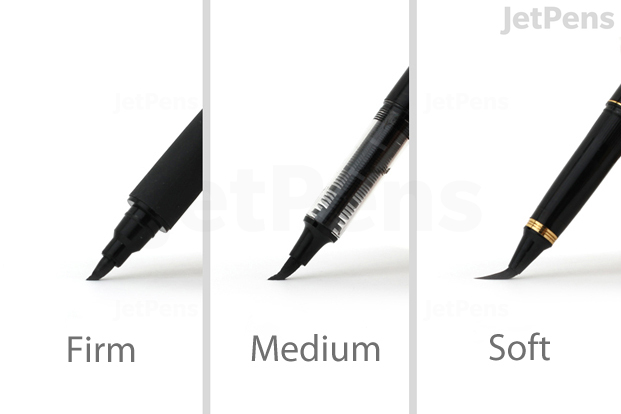 Brush Pen Tip Firmness
Brush tips range from soft to firm depending on the bristle type, density, and size. Felt tips tend to be firmer than bristle tips and produce predictable strokes. Loosely packed nylon tips offer more flexibility, but they have a tendency to fray and lose their shape over time. Bristle tips with individual hair fibers are the softest and respond best to subtle hand movements. However, they require extra practice to master.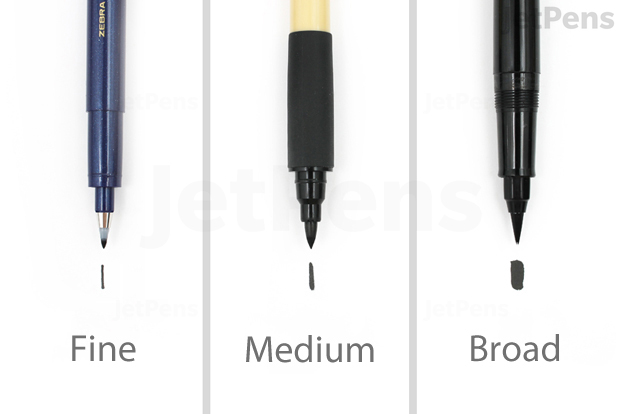 Brush Pen Tip Sizes
Varying brush tip thicknesses can be advantageous for different uses. Thin tips allow for more detail but can feel scratchier. Broad tips feel smoother to write with and create bold, expressive strokes, but they're not able to create extra fine hairlines.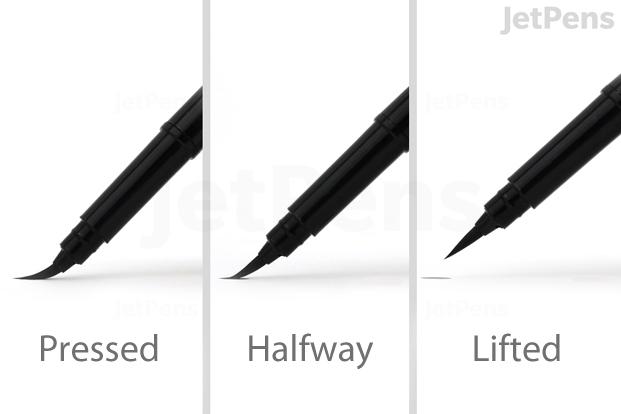 Brush Pen Tip Elasticity
An elastic brush tip is springy: it bounces back to its original shape when lifted from the page. A brush tip with high elasticity can create very fine upstrokes because it returns to a conical shape as pressure is released, ensuring that the finset part of the tip is used. On the other hand, an elastic brush tip tends to stay deformed when pressure is released. They can be reshaped by gently pressing the opposite side of the tip against a piece of scrap paper.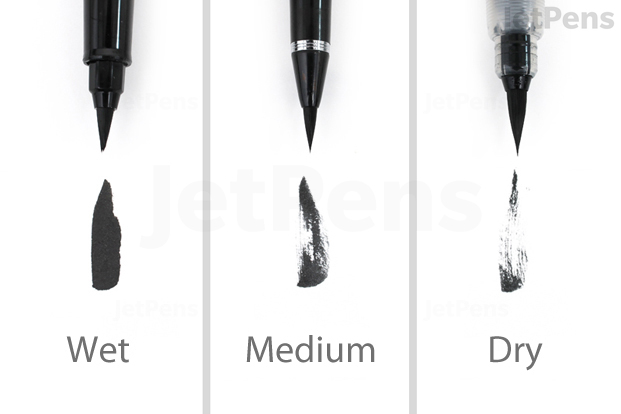 Brush Pen Ink Flow
A brush pen with good ink flow dispenses ink consistently without streaking or pooling. Some brush pens have wet flow and create rich lines as soon as the tip touches the paper. Other brush pens are drier, so you can let the tip linger on your paper without creating ink blobs.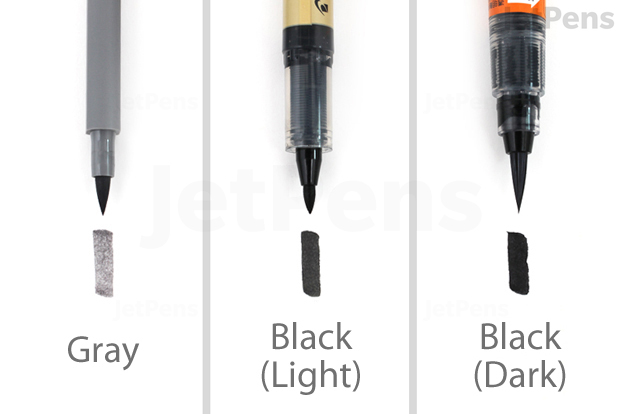 Brush Pen Ink Color and Pigmentation
Most standard brush pens come with black ink unless they're designed for coloring or other special uses. Black inks vary in darkness across different brands. Pigmentation is a priority if you want your work to be bold and noticeable. If you desire a subtle gradient or a softer look, try brush pens with a muted black ink.
The Best Brush Pens for Beginners
Most people are familiar with the feel of a firm felt-tip marker and intuitively know how to control it. Good brush pens for beginners behave more like markers. Their firm tips are easy to control and create predictable lines. With some practice, you can learn how to apply pressure properly and create the line variation that makes brush calligraphy so popular.
The Best Brush Pens for Dramatic Lettering
We've all seen beautiful lettering with fine hairlines and whimsical twirls. For dramatic lettering, the brush pen tip should be soft and elastic so that you get as much stroke variation as possible. Pigmentation is another consideration: we recommend using a dark black ink to convey your message boldly, or vibrant shades for fresh pops of color. Additionally, seek out brush pens with archival ink—you want your beautiful lettering to last!
The Best Brush Pens for Asian Calligraphy
Brushes are the traditional tools for calligraphers who write Chinese characters and Japanese kanji. However, brushes often require messy liquid inks and regular cleaning to ensure optimal performance. Modern brush pens are an affordable option that don't skimp on quality. They're easy to carry with you and don't require much clean up.
Like English script, Chinese characters can be written in different styles, from ancient hieroglyphic-like characters to more stylized writing. A dry brush effect (where lines are "broken" to show texture) is an artistic feature of Asian calligraphy and only possible with brushes that have individual hair fibers. If you want to hold your brush the traditional way—that is, pointing perpendicular to the paper—choose a longer pen for more balance.
Disclaimer: all images are owned and copyright by their respective owners and website (www.jetpens.com) and "https://madcity.supplies/blog" is for news, information, product news and reviews.