Whether you're a new or hardcore crafter, the adhesive you use can make or break your project. Many factors can go into choosing an adhesive such as if it's safe to use on different materials, how permanent it is, and how easy it is to apply. Keep reading to learn more about the different types of adhesives and our glue and adhesive tape runner recommendations.
Top Choice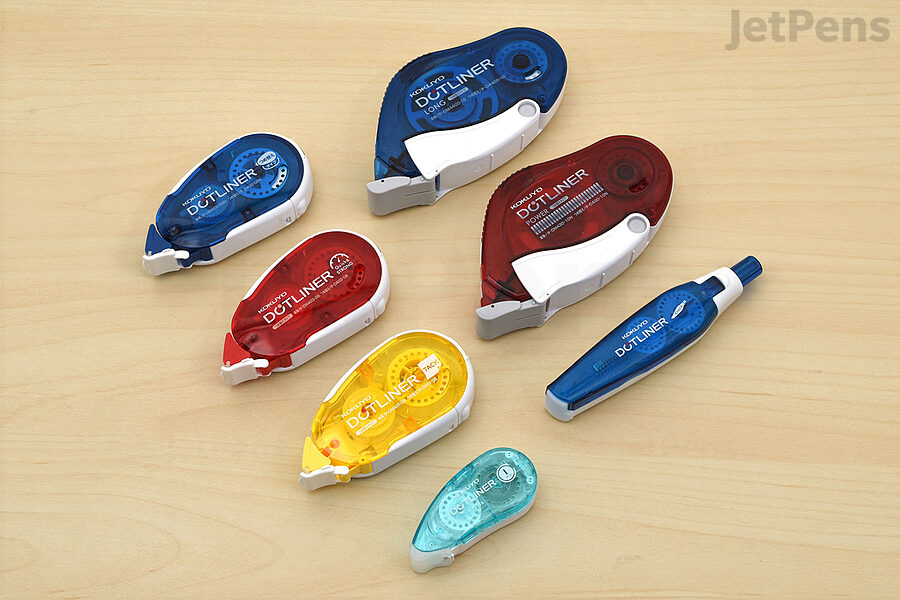 Our top choice for adhesives is the
Kokuyo Dotliner Tape Runner
, which features the largest selection of body types and adhesive types. It lays down smooth lines of adhesive and works well for projects of any size, from small paper cut outs to poster boards. Aside from the Standard, body types include the petit
Fits
, the retractable
Knock
, the compact
Flick
, and the larger
Power
and
Long
, all of which are comfortable to hold and have protective flip caps that protect the adhesives when not in use. The Dotliner features removable, permanent, slow permanent, and extra strong permanent adhesives.
Refills
are available for each body and adhesive type.
All of the Dotliner adhesive types are able to adhere thin and lightweight papers, like Tomoe River Paper and copy paper, as well as cardstock. The removable type keeps its stickiness after repositioning the paper several times but was not able to restick cardstock. It can leave adhesive behind when it is repositioned, but any residue can be rubbed off without damaging paper or cardstock. The strength of the slow is slightly stronger than the removable adhesive after it sets. Finally, the permanent and extra permanent types make the strongest bonds when adhering paper, and the extra permanent creates the strongest bond for cardstock.
Types of Adhesives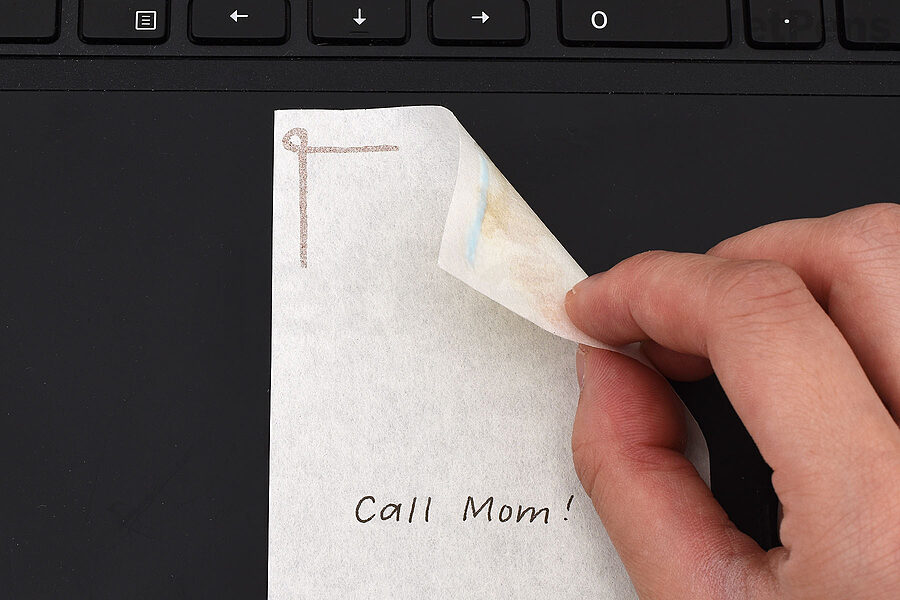 Temporary adhesives allow you to remove or reposition papers as needed.
Temporary Adhesive
These light adhesives allow for removing or repositioning papers as needed, which is great for mood boards that need periodic refreshing or making your own sticky notes. While there are adhesives that are solely removable, glue pens like the Kuretake ZIG 2 Way give you the option of making both temporary and permanent bonds.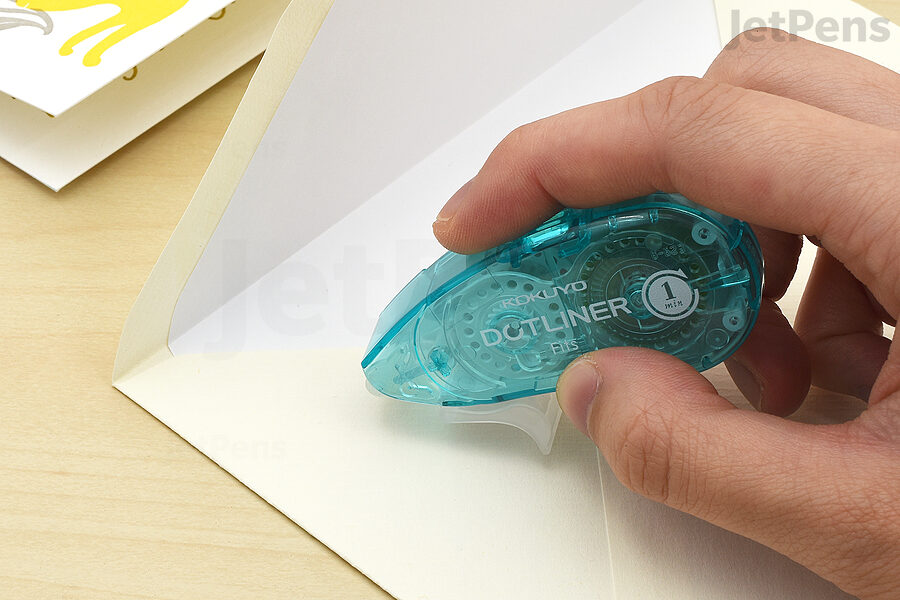 Slow permanent adhesives set and become permanent after about a minute.
Slow Permanent Adhesive
Slow permanent adhesives are temporary for about a minute before setting and becoming permanent. If you forget to put a greeting card in its envelope after sealing it up or if you need time to adjust the details on a small paper project, you have a grace period before it's set for good.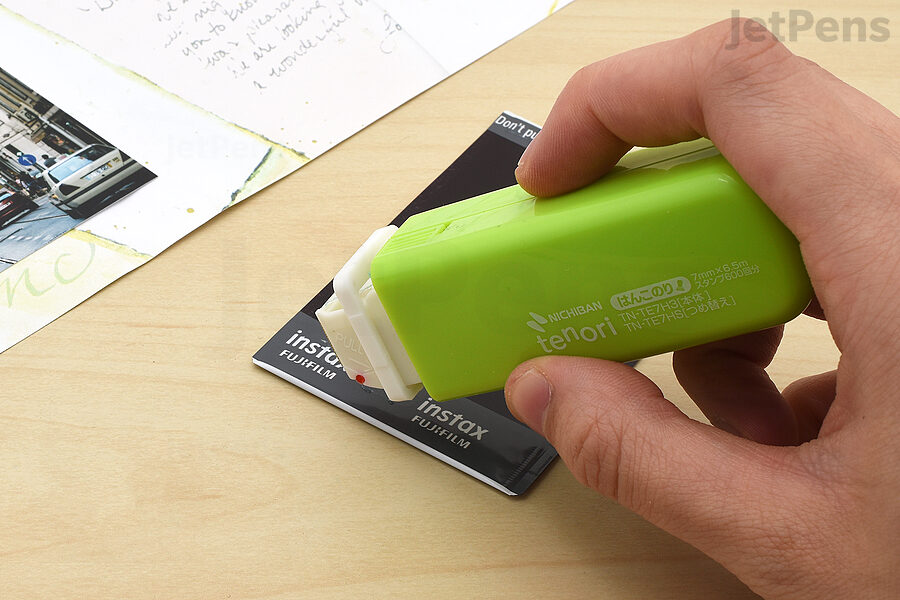 Permanent adhesives offer the most options for you to choose from.
Permanent Adhesive
Permanent adhesives are the standard when it comes to glues and tape runners. There are a lot of options and you can choose which best suits your projects' needs. Keep in mind that permanent adhesives found in liquid glues and glue sticks may take some time to dry, while tape runners require no drying time.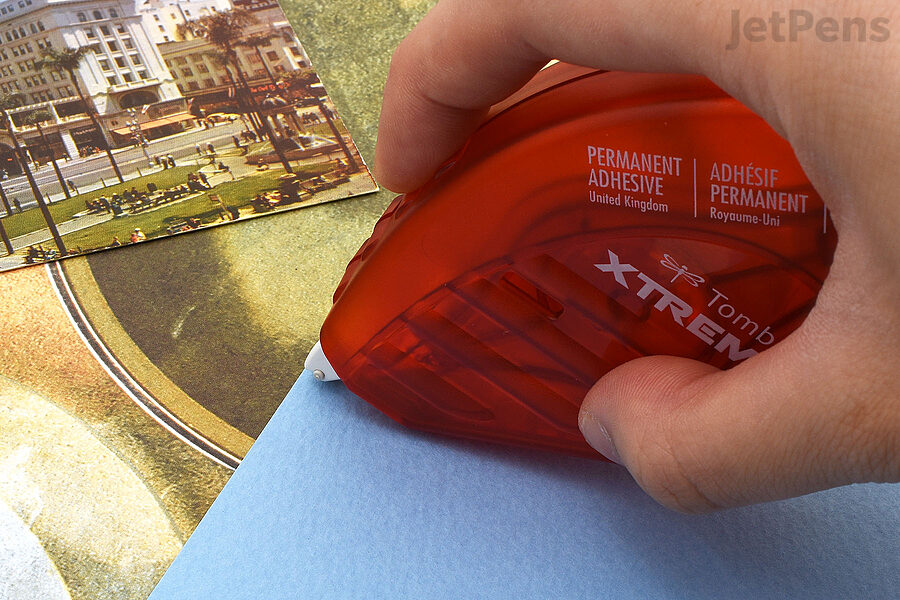 Extra strong adhesives are meant for dense, textured papers like cardstock.
Extra Strong Adhesive
Extra strong permanent adhesives are meant for dense, textured papers like cardstock and thick envelopes. Some, aside from adhering heavy papers, can be used on materials such as wood, glass, plastic, and rubber. Most of these adhesives are still safe for scrapbooking and making paper crafts.
The Best Adhesive Tape Runners
Tape runners are a mess-free adhesive option. If you've ever used double-sided tape and found that peeling the backing was a hassle, these adhesive runners cut out that step entirely. They lay down adhesive in strips so you can adhere along edges and corners of papers effortlessly.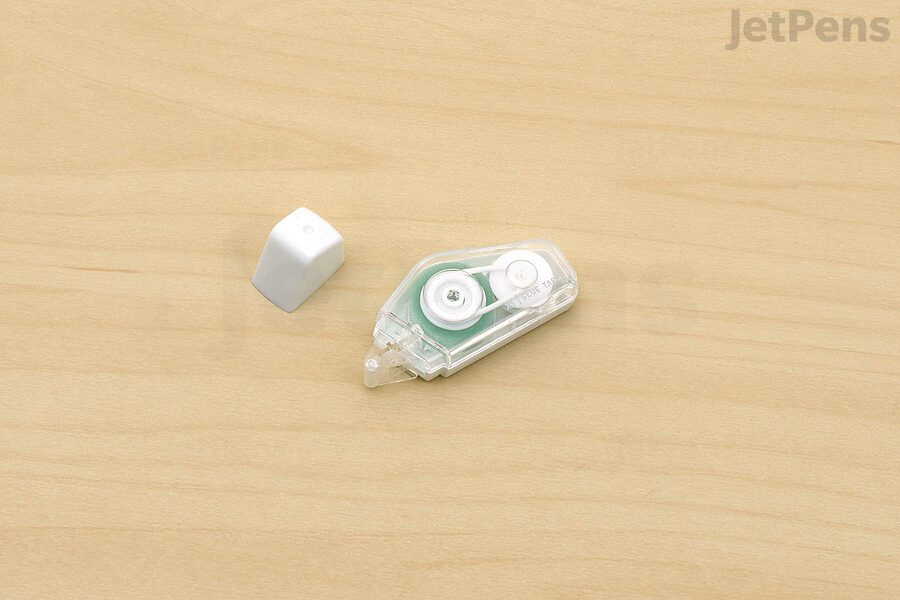 Midori XS Glue Tape
may be extra small, but don't underestimate it. It holds eight meters of adhesive in a body that's just 5.6 centimeters long! Crafters who take their supplies on the go and are looking to save space in their pen case or bag will appreciate this diminutive tape runner. It works best with lightweight papers and is ideal for adhering smaller elements to a journal or scrapbook spread. Midori also makes a
Stationery Kit
that includes other mini supplies like scissors, a stapler, and measuring tape in a handy carrying case.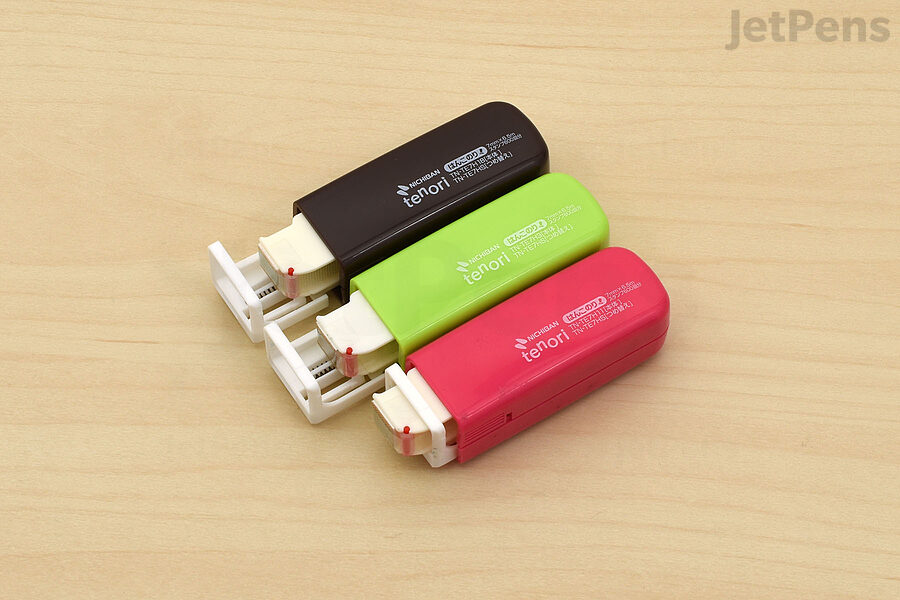 The
Nichiban Tenori Adhesive Stamp
's versatility makes it stand out from other tape runners. Crafters can apply adhesive by stamping or rolling the dispenser. The Tenori can stamp approximately 600 rectangles of adhesive which can be used with light and medium weight papers. Other than adhering edges of papers or photos, it can be used to quickly and efficiently seal envelopes and gift wrap. Its built-in guide also holds papers in place, ideal for small pieces that are hard to hold. To use as a roller, push the guide in prior to applying to the page. Angle the Tenori's red dot so that it aligns with the surface that's being adhered and use as you would a regular tape runner.
Nichiban makes refills for the Tenori, so you can roll and stamp adhesive to your heart's content!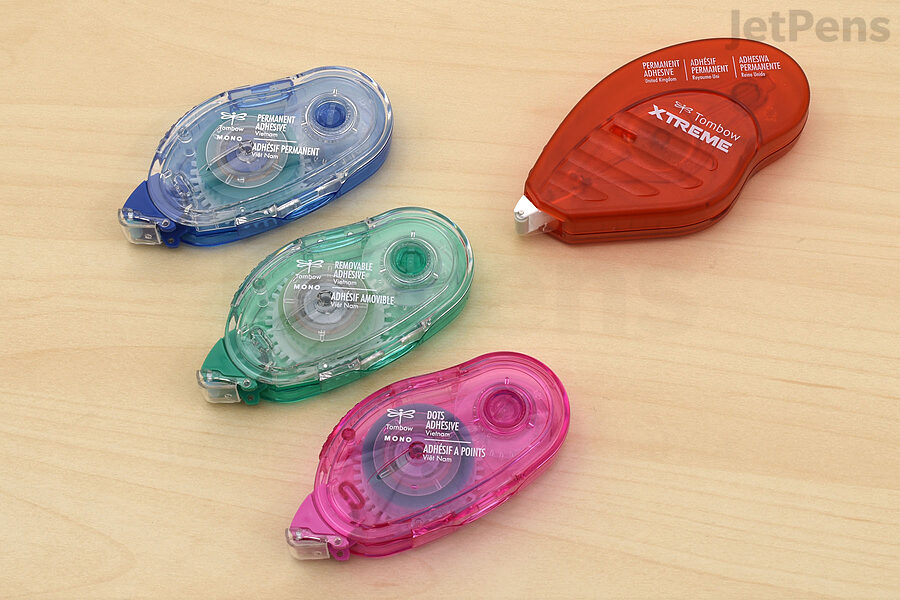 Those familiar with tape runners may already have a
Tombow Mono Adhesive Tape Runner
in their stationery collections. If you are overwhelmed by all of the Dotliner options, the Tombow Mono offers all of the adhesive types.
It features two body options: Standard, which can hold the permanent, slow permanent, or temporary adhesive, and Xtreme, which carries the extra permanent. It also has refills—available individually or in packs of three—for crafters that go through a lot of adhesive.
All of the Tombow Tape Runners perform similarly to the Kokuyo Dotliners and are able to adhere papers and cardstock well. The Dots adhesive is comparable to Kokuyo Dotliner's slow permanent in regards to strength, but the Tombow one sets faster, and the removable adhesive does not leave tape residue behind when repositioning.
The Best Glue Pens
Projects that involve small or delicate elements, such as paper cut outs, sequins, or glitter, are easily handled by glue pens. Because the adhesive is dispensed from a pen, crafters have the most control over application. Plus, their size makes them convenient to store in a pencil case.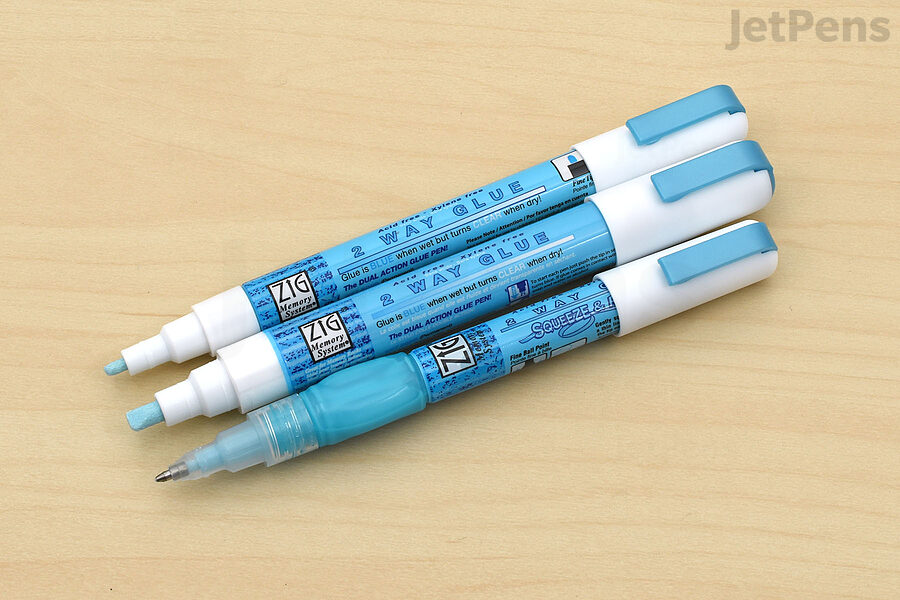 The
Kuretake ZIG 2 Way Glue Pen
comes with three different tip sizes: chisel, fine, and fine ballpoint. The chisel and fine versions dispense glue by pushing their tips in, and the fine ballpoint dispenses glue by gently squeezing the grip and rolling the tip along the surface you are gluing. Adhere your projects when the glue is blue and wet for a permanent bond; let the glue dry and become clear before adhering for a temporary one. While all three glue pens can adhere paper well, the chisel and fine tips dispense thinner layers of glue which dry quicker and make them better for temporary bonds. The fine ballpoint can dispense more glue and can be used for permanent bonds with heavier papers like cardstock. The temporary bonds made with these glue pens are not compatible with cardstock.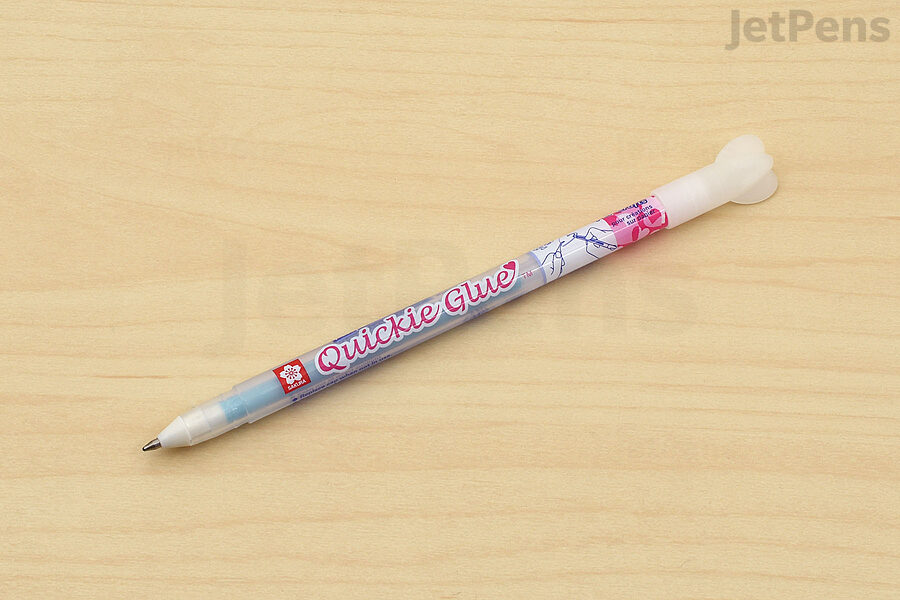 Like the Kuretake ZIG 2 Way Glue Pen,
Sakura Quickie Glue
can be used to create temporary and permanent bonds depending on how dry the glue is when securing papers together. Sakura Quickie Glue sets itself apart as it requires no squeezing or priming before applying. It performs similarly to the fine ballpoint version of the 2 Way Glue Pen and can lay down thinner lines for even more precise application. We recommend rolling the ballpoint tip along slowly to lay down consistent lines of glue. While it can create strong, permanent bonds with paper and cardstock, when used to create a temporary bond it does not adhere cardstock well.
The Best Glue Sticks
Most peoples' first experiences with adhesives are with glue sticks as school children. They are the easiest to use, keep your fingers clean, and are formulated so they do not dry immediately, giving you a little bit of time to reposition papers just the way you want them.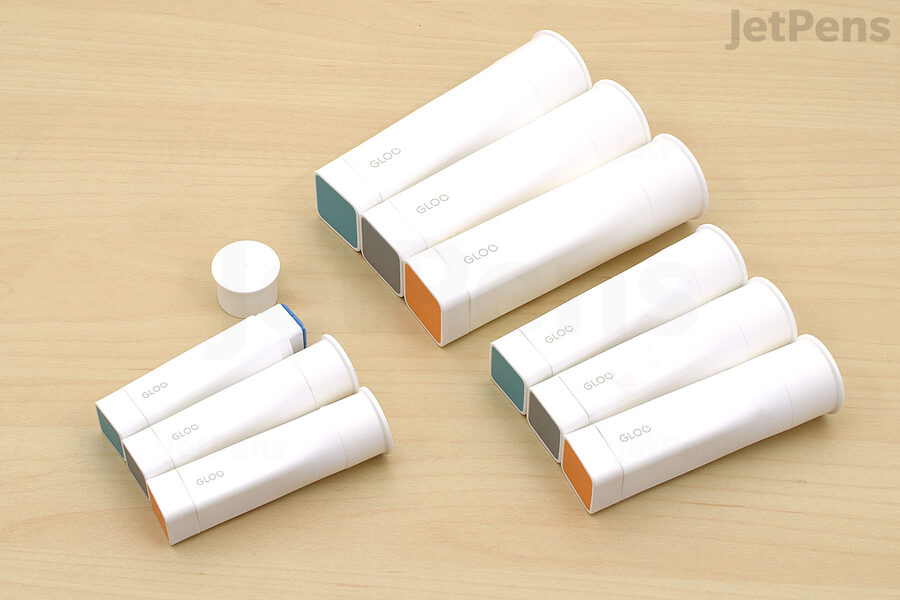 Kokuyo Gloo Glue Sticks
incorporate an ingenious square shape design. Not only does the square design align with the edges of papers, it also prevents the glue sticks from rolling off your desk. They are available in three sizes and utilize different adhesive formulas, including Disappearing Blue, which dries clear, and Wrinkle Free, which uses a low-moisture formula to reduce wrinkling even on thin papers. All of the Kokuyo glue sticks can make permanent bonds on both paper and cardstock; the bonds they make on paper are stronger.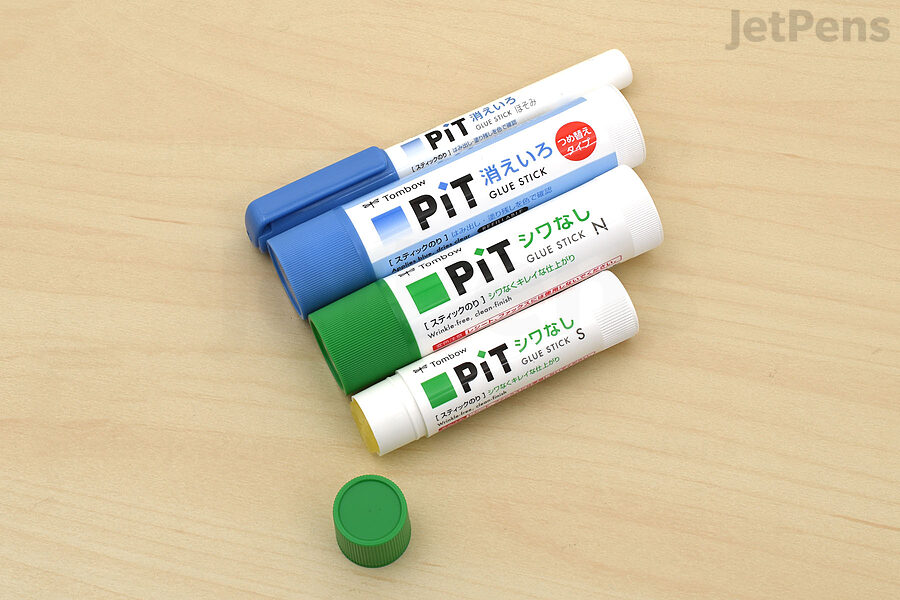 Tombow Kieiro Pit Refillable Glue Sticks
let consciously consuming crafters get the most out of their adhesive. They are available in regular and slim body types, the latter being a favored accessory for Hobonichi users. It is 7.5 mm wide, about half the size of the regular Tombow Kieiro Pit, making it better for permanently adhering smaller elements. You can also apply directly to the pages of the Hobonichi Techo or Weeks and work more accurately within their small grid sizes. It combines the convenience of a glue stick with the portability of a glue pen, and can easily slip into a Hobonichi zipper cover or clip to a cover's pen holder. Tombow makes a
wrinkle free glue stick
, which is also available in two sizes. These glue sticks, like the Kokuyo ones, create permanent bonds on both paper and cardstock and adhere paper better.
The Best Liquid Glues
Liquid glues are best for projects that combine different materials, which makes them great as an all-around adhesive. They also can be used to cover large and small surfaces, as they can be spread using the glue's applicator or a dedicated brush, such as with book binding.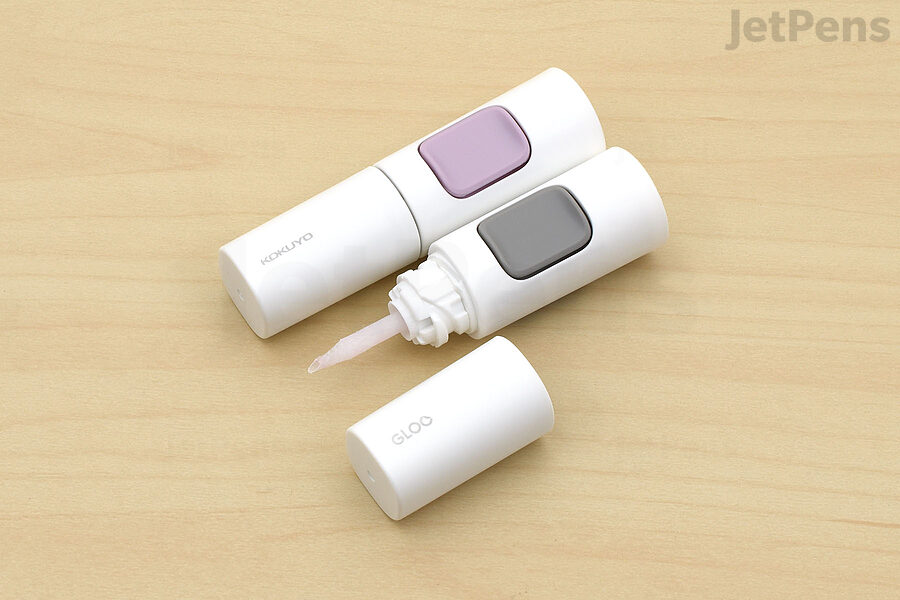 Those who feel liquid glues are messy will see that that is not the case with
Kokuyo Gloo Instant Glue
. It features a button to control how much glue is dispensed and a diagonally cut nozzle, so it can apply glue in both broad lines and small dots. It is available in liquid and gel formulas that create strong, permanent bonds, allowing you to choose which would work best with your materials. The liquid formula is better for spreading across larger surface areas of nonporous materials, as it can be absorbed by porous objects like paper and cardstock. The gel formula is not easily as absorbed and can be used on both porous and nonporous materials. These are not recommended for paper projects, as they can make paper harden.
Glue and Adhesive Tape Runner Test Results
We tested drying time by applying the adhesive to one piece of copy paper, adhering another piece of copy paper to it, then attempting to peel the pieces apart in increments of 30 seconds.
We also tested the strength of each adhesive by adhering two pieces of copy paper and two pieces of cardstock together. After letting the adhesive dry completely we attempted to pull the materials apart. The results range from low strength to high strength.
Glue and Adhesive Tape Runner Test Results
Glue and Adhesive Tape Runner Test Results
Our writers draw on their personal expertise, consult our in-house subject matter experts, and do extensive research to make our guides as accurate and comprehensive as possible. We then test every finding that makes it through the research stage. Only the techniques and tools whose performance we personally confirm make it into our guides as recommendations.
Conclusion
No matter the project, crafters know that glues and tape runners will always stick around. Do you have a favorite adhesive you like to use? Let us know in the comments!
Shop This Post
| Adhesive | Adhesive Type | Best For | Shop |
| --- | --- | --- | --- |
| Kokuyo Dotliner Tape Runner | Extra Strong Permanent, Permanent, Removable, Slow Permanent | General Use | Add Items to Cart |
| Kokuyo Gloo Glue Stick | Permanent | General Use | Add Items to Cart |
| Kokuyo Gloo Instant Glue | Permanent | Multi-Material Projects | Add Items to Cart |
| Kuretake ZIG 2 Way Glue Pen | Temporary, Permanent | Detail Work, On-The-Go | Add Items to Cart |
| Midori XS Glue Tape | Permanent | Detail Work, On-The-Go | Add Items to Cart |
| Nichiban Tenori Adhesive Stamp | Permanent | Detail Work, General Use | Add Items to Cart |
| Sakura Quickie Glue | Temporary, Permanent | Detail Work, On-The-Go | Add Items to Cart |
| Tombow Kieiro Pit Refillable Glue Stick | Permanent | Detail Work, General Use, On-The-Go | Add Items to Cart |
| Tombow Mono Adhesive Tape Runner | Extra Strong Permanent, Permanent, Removable, Slow Permanent | General Use, Multi-Material Projects | Add Items to Cart |
Disclaimer: all images are owned and copyright by their respective owners and website (www.jetpens.com) and "https://madcity.supplies/blog" is for news, information, product news and reviews.